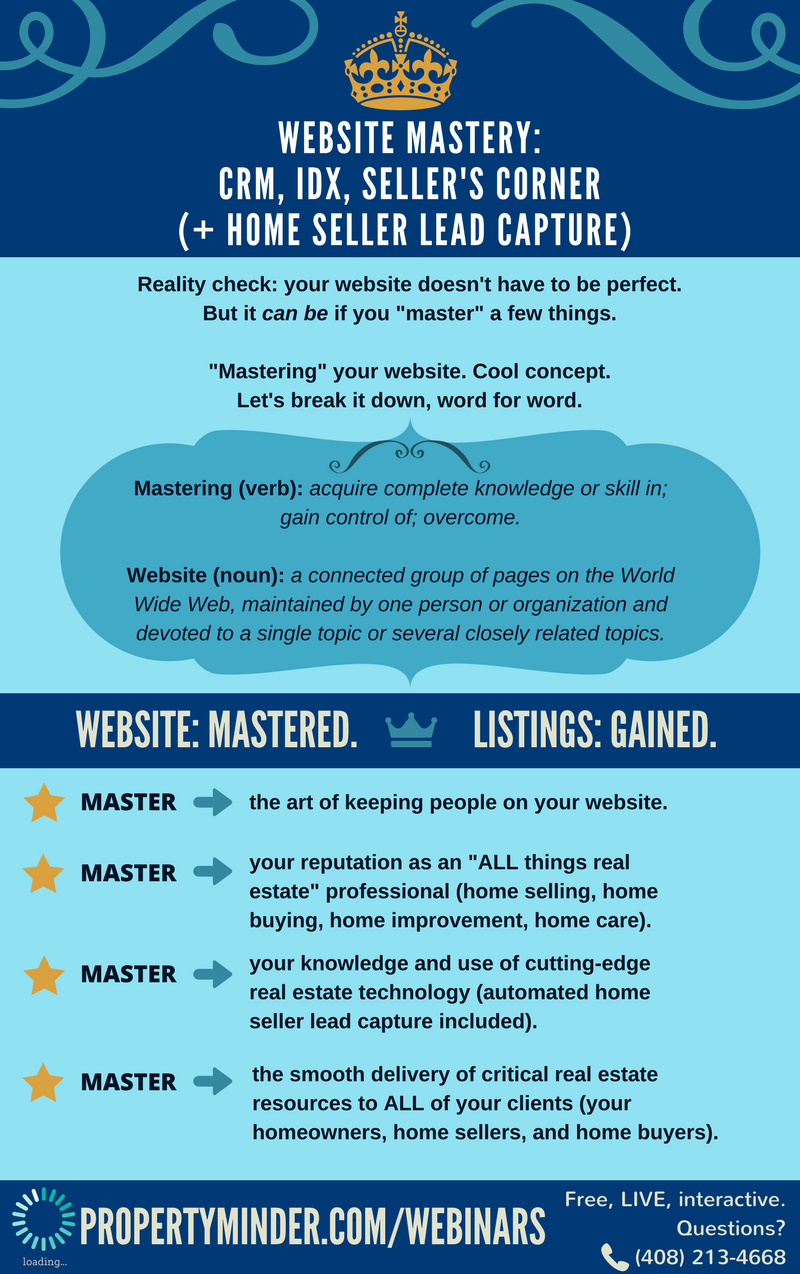 Reality check: your website does not have to be perfect.
But it can be if you "master" a few things.
"Mastering" your website. Cool concept.
But let's break it down, word for word.
Mastering (verb): acquire complete knowledge or skill in (an accomplishment, technique, or art); gain control of; overcome.
Website (noun): a connected group of pages on the World Wide Web, maintained by one person or organization and devoted to a single topic or several closely related topics.
So what will the free WEBSITE MASTERY WEBINAR do? It'll help you:
– MASTER the art of keeping people on your website…
– MASTER your representation as an "ALL things real estate" agent (home selling, home buying, home improvement, home care)…
– MASTER your knowledge and use of cutting-edge real estate technology (automated home seller lead capture included)…
– MASTER the smooth delivery of critical real estate resources for ALL of your clients (your homeowners, sellers, buyers and leads).
Click here to register for the next free WEBSITE MASTERY WEBINAR. We go LIVE next Monday, March 5th at 10:00 am (PST).
Can't make it this Monday? Feel free to register for the next webinar by clicking here.
By the way: although previous website/marketing experience is not required for attendance (because we break stuff down in super simple terms), enthusiasm and excitement about learning a thing or two is a must. 🙂
Are you in? Really looking forward to this!
Tim
Marketing Director
Direct | 408.213.4668
1101 S. Winchester Blvd, J-225
San Jose, CA 95128
Buy Just 3 Months, Get 2 Completely Free
+ Free Service For Existing Customers With Our Referral Program
More marketing advice can be found on our featured Tip Of The Week Archive page